Interviews with Travelling Companions
Marie Versini
Marie Versini — her movies with Lex Barker: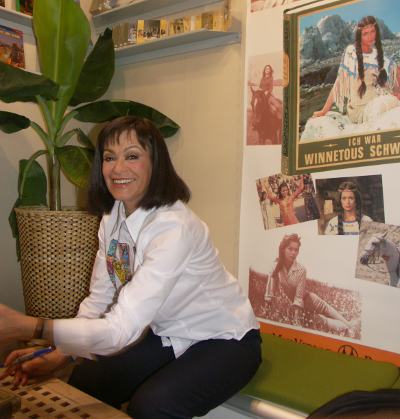 Marie Versini at home
Her name is inextricably linked to the Karl May films and to Lex Barker. In the second movie of the Horst Wendlandt era, Apache Gold, Marie Versini plays the Apache chief's sister, Nscho-Tschi and, with that role, immediately becomes a star of the film series, as well as the role-model of an entire generation of young women. Her on-screen love to Old Shatterhand, Lex Barker, ends in tragedy and when the villain Santer, Mario Adorf, kills her, it moves millions of hearts. Consequently, producer Artur Brauner signs Marie Versini for further Karl May films. In The Shoot / Yellow Devil the spirited actress even gets to free Kara Ben Nemsi, Lex Barker, from a difficult situation towards the conclusion of the story. Likewise, in two more film adaptations of Karl May's Orient adventures, Marie Versini rides as Ingdscha on Lex Barker's side — the good side.
Marie Versini's acting career experiences many more highlights in addition to her roles in the Karl May films. The charming French woman first causes a furore in the theatre. After her training at the Conservatoire National Supérieur d'Art Dramatique, Paris, at almost seventeen years of age, the Corsica-born actress becomes the youngest ever member of the Comédie Française. She gives her screen debut in Ralph Thomas' A Tale Of Two Cities (1958), next to Dirk Bogarde, Paul Guers and Christopher Lee. Versini also appears in the Eddie-Constantine action movie Cien De Pique (1960), as well as in the big, Paris-made US production Paris Blues (1961) with stars like Paul Newman, Joanne Woodward, Sidney Poitier and Louis Armstrong. The comedy Das Schwarz-Weiss-Rote Himmelbett (The Black-White-Red Four-Poster Bed, 1962), is Marie Versini's first German movie, directed by Rolf Thiele.
After her big success in Apache Gold, she makes additional movies in Germany. She demonstrates her acting skills with her roles in two drama productions: as Marie in Kennwort: Reiher (The River Line, 1964), and as camp commander Ludmilla in Liebesnächte In Der Taiga (Romantic Nights In The Taiga, 1967). Both roles confront the actress with the same problem: making a choice between the man she loves and her duties towards her country. Big cinema for a public idol.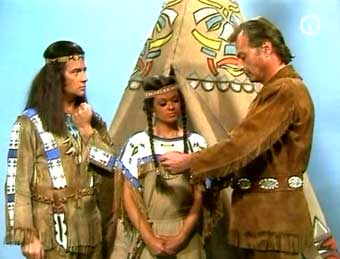 Marie Versini in the Rudi-Carrell-Sketch with Pierre Brice
as Winnetou and Lex Barker as Old Shatterhand
Further popular roles follow with the feature films Ferien Mit Piroschka (Vacations With Piroschka, 1965), or Die 13 Sklavinnen Des Dr. Fu Man Chu (The Brides Of Fu Manchu, 1966). A new Winnetou movie with a different frontiersman, Winnetou Und Sein Freund Old Firehand (Thunder At The Border, 1966) with Rod Cameron, also belongs to her list of achievements. There was one last meeting with Lex Barker in 1971 during a sketch in the German TV program: Die Rudi-Carrell-Show (The Rudi Carrell Show), a long-running, very popular show in Europe that included a similar concept to today's 'Pop Idol', fun sketches, as well as a segment helping people find long-lost relatives or friends. Since that time, television films and theatre pieces belong to the repertoire of the popular actress.
After her autobiography Ich War Winnetou's Schwester ('I Was Winnetou's Sister') (2003), Marie Versini wrote her first novel, together with her husband, author and director Pierre Viallet. Of course, the subject is Karl May's Nscho-Tschi. It is a modern 'Western' with a pinch of mystery. A young Red Indian, Neugieriges Eichhörnchen ('Nosey Squirrel'), encounters numerous Rätsel Um N.T. ('Riddles About N.T.') (2008).
The following interview was conducted in 2009 and published here for the first time.
Marie, in 2009, Lex Barker would have celebrated his ninetieth birthday. When you look back, what are your thoughts about Lex?
Lex was a very simpatico partner. There are stars who are nice and others who are not. Lex definitely counted among the former. He also didn't find it necessary to 'steal' his partners' scenes. Many actors do that, when their partner is good. They make intentional mistakes to interrupt the scene. That's terrible. Lex, on the other hand, always helped. He was a very good comrade during shooting. Europeans love the American movie. Lex was a typical US-American. He virtually played himself. When the famous acting teacher Lee Strasberg spent a year in Paris, my husband, Pierre, and I attended his school. James Dean, Marilyn Monroe and Paul Newman were also among Strasberg's students. Strasberg always said: "Don't pretend!" Lex was like that.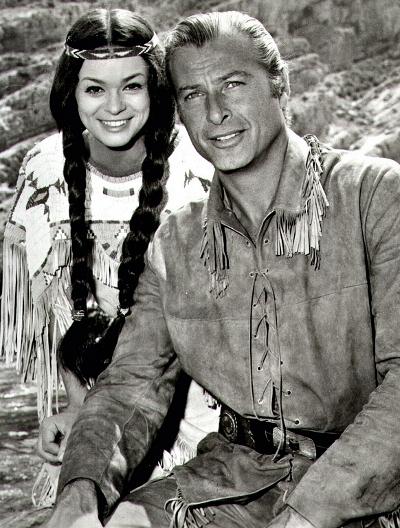 Marie as Nscho-Tschi with Lex Barker as Old Shatterhand
Some of the filming locations in the former Yugoslavia, now Croatia, included the Krka waterfalls or the Zrmanja cannon. What was your favourite scene with Lex in Apache Gold?
My favourite scene with Lex is the one where we're sitting on the boulder beside the rapids of the Roski waterfalls in Krka national park and the villain Santer, Mario Adorf, is spying on us — when Nscho-Tschi tells Old Shatterhand that she wishes to attend school and live with him in the white society. I also like my death scene with Lex, but that's a different story.
Thanks to Lex Barker, you played the role of Nscho-Tschi with your own hair. Can you remember other tips from Lex to Nscho-Tschi?
Lex helped me with horse scenes quite often. I knew how to ride, but in the movie, I had to ride Indian fashion, without a saddle. Lex was a great help to me especially in the scene where I had to ride to Roswell on my own to fetch his jacket, which had been left behind. Initially, Harald Reinl wanted to used a double. I said: "No, no! I'll learn how to ride like an Indian." I did, thanks to Lex!
During the filming of one of the Orient stories, Im Reiche des silbernen Löwen, you did a belly dance for Lex Barker. Can you remember his comment to that scene?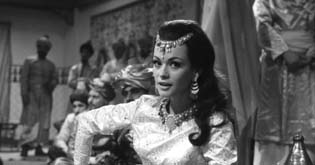 Marie belly dancing in The Wild Men of Kurdistan
I trained very hard for that dance. Even in Paris already with Serge Lifar. It was an oriental dance. Director Franz-Josef Gottlieb reminded me every day that I had to practice. And so I did. Lex was delighted and said: "That was very sexy."
He was right! Lex played Old Shatterhand as well as Tarzan. But he also acted in Fellini's La Dolce Vita (1960). Given the choice, in which genre would you have liked to partner him? A comedy, perhaps?
Why not? And a Shakespeare piece as a classical work, for example Antony And Cleopatra. Perhaps even a piece by Goethe: Egmont with Lex in the title role and me as 'Klara'. Or even my new novel N.T. Geht Zum Film ('N.T. Goes To The Movies'). It is the sequel to Rätsel Um N.T. Set during the era of the first motion pictures, N.T. is the actress in a movie.
Which role could Lex have played?
I think he could be Butch, the director and script writer of the movie.
Together with your husband, Pierre, you wrote a new Nscho-Tschi novel. What motivated you to do it?
Who is N.T.? A young Indian woman who is very interested in the traditions of her culture. All artists live in their imagination, in their dreams. Everything Pierre writes are dreams. When we watch the movies made in earlier times, we dream during those two hours. Pierre has worked a great deal with the prominent writer and artist Jean Cocteau, who also wrote theatre pieces and was a close friend of Jean Marais. In the foreword to one of his theatre pieces, Cocteau stated that one writes about illusions and dreams, not so much about facts. Pierre and I got the idea about: what would have happened if Nscho-Tschi hadn't died? She would have had a daughter. We dreamt that. It's an honour for Karl May. Why are Karl May's Red Indians so fantastic? At the time he created Winnetou, he had not seen a real Indian. It was an illusion. I remember that, on set, Lex quite often said to Harald Reinl: "That doesn't exist with the Indians." He saw it from the point of view of the authentic Red Indians. Reinl replied: "No matter, Karl May wrote it differently. The public would be disappointed if we didn't do it this way."
Harald Reinl was correct! Even if it wasn't identical with reality. Not everyone understands this. It doesn't matter, because the majority has understood it. It's about dreams. About our own dreams. Karl May himself has made many mistakes with his novels. But that is his world. And we're exercising our right to develop the figure of Nscho-Tschi as if she hadn't died. That's a different story and has nothing to do with Karl May. The use of his figures is an honour for him. And for us a journey, about which we love to write. I receive a lot of correspondence. Many people write that it was a pity Nscho-Tschi died so early. That's why we thought: "What if..."
I also think it is a good idea. You've met Lex's sons, Zan and Christopher. What can you say about them?
I am very fond of both. Unfortunately, I've not seen Zan since the shooting of Apache Gold. We've often eaten dinner together. We telephone occasionally, but too infrequently. I have known Christopher since the opening celebrations of the Karl May Plays in Bad Segeberg, where he played Old Shatterhand (1992/3). He was as skilled as his father! He looks like his father. We became good friends. I admire him and what he does for the memory of his father. I regret very much that I don't see him very often these days. But that's life.
Thank you for the conversation.
Reiner Boller (2009)
Translated by Marlies Bugmann (2009)